In today's digital age, having a strong online presence is essential for any business or individual looking to establish themselves in the digital landscape. One of the first steps in building an online presence is to obtain a domain name, which serves as the foundation of any website or online platform. A domain name is essentially the address of a website or online platform, allowing users to easily access and identify the online location they are looking for. So it's essential to choose a domain name that's not only memorable and easy to spell but also relevant to your business or website.
With the numerous options available and the wide variety of hosting services, it can be hard to know where to start. But with the right knowledge and guidance, you can get your own domain name and make sure that it's properly registered and functioning correctly. While it may seem like a daunting task to obtain a domain name, the process is actually quite simple.
This article will explore how to get a domain name quickly and easily. We'll cover everything you need to know about how to get a domain name.
How to Choose Domain Name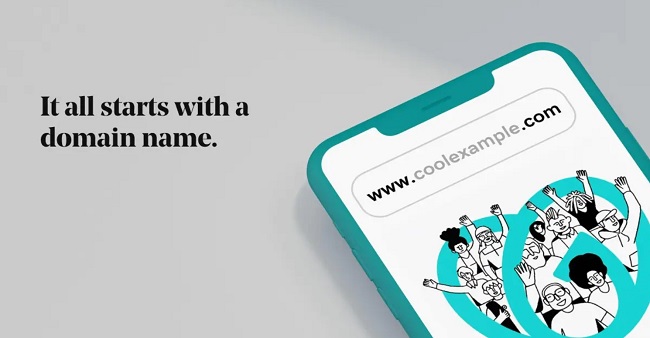 Because of the importance of the domain name in today's digital age, picking the right one is the first step in establishing your brand online. However, it's not always easy to come up with the ideal domain name.
Despite the fact that millions of domain names are still available, most of the short, memorable ones have already been taken. Fortunately, if you follow a straightforward procedure and put in a little creative effort, you can still obtain your desired outcome.
1. Make it Recognizable Rather than Generic
Domain names that are both unique and easy to remember will always fare better than their generic counterparts. Your domain name is the online identity of your company, and as such, it is crucial to its success. Instead of picking a domain name that's just a bunch of random words, it'd be better to pick something that fits in with your brand.
Here are some tips to make your domain name recognizable and unique:
Keep it short and sweet: Short domain names are easier to remember and type in. Aim for a name that's no more than two or three words.
Make it catchy: Choose a name that's easy to say, memorable, and fun. A catchy name will stick in people's minds and help your brand stand out.
Reflect your brand: Your domain name should reflect your brand identity and your products or services. Think about what makes your brand unique and try to incorporate that into your domain name.
Use keywords: Include relevant keywords in your domain name to help improve your website's search engine rankings.
Avoid numbers and hyphens: These can make your domain name harder to remember and more difficult to type in.
2. Find the Right TLD for Your Website
A ".com" top-level domain (TLD) is still the most common and widely used option, but sometimes a different TLD is preferable.
Even though Google says your TLD choice has no bearing on search engine rankings, it can still affect how customers view your brand. Other top-level domains (TLDs) are seen as less reliable by many.
However, if you find the ideal name and the example.com version is already taken, the .net or .org versions are common enough to be viable alternatives.
If you're set on using an extension other than .com, research how many websites of that type already exist on .com before making your choice. Someone seeking out your brand is bound to wander in by accident. You may want to avoid that domain name if it leads to a site with questionable or offensive content.
3. Look at the Domain Length
It's preferable to have a shorter domain name. Google, in particular, favors domain names that are short, descriptive, and easy to remember because they are more likely to be exactly what the user is searching for. URLs that are too complicated or contain a lot of special characters and numbers may lower a website's search engine rankings.
Find a memorable and succinct way to describe your website in its domain name. Short domains are more memorable, easier to read, and take up less real estate on promotional materials.
The number of available short domain names is smaller. Nonetheless, you may be able to find something suitable if your brand name is completely original or features some other form of originality.
When it comes to length, what exactly is acceptable? Use as few as possible of the allowed 6-14 characters.
4. Try to Make It Stand Out in People's Minds
Your domain name, whatever it may be, should be easy to remember. Everyone should be able to spell and type it easily.
If your domain name is already available and meets the aforementioned criteria, you should also ensure that it is easy to pronounce in order to benefit viral marketing. Try the "10-friends" method to see if you should proceed. Make a note of the domain name and see how your friends and family members pronounce it. If nobody has any problems, then everyone wins.
Consider a few of the most popular websites today, such as Amazon, Yahoo, Twitter, and Reddit. Each one is brief and simple to write. There is a high probability that a sizable portion of your audience will visit a competitor's site if you make a poor decision.
5. Do Not Use Hyphens or Numbers
Consider the difficulty in remembering and pronouncing a domain name that consists entirely of numbers and dashes, and then ask 10 friends to help you out. Simply put, it won't be effective.
You'll lose potential visitors who won't be able to easily remember or relay your domain name to others if you include any of these words or phrases in your selection.
6. Make Sure There Isn't Any Trademark Infringement
It's a problem for big and little brands when people use their names without permission. Even if you only made a minor error, it might be expensive to change your online presence and deal with the legal issues that arise from a lawsuit.
In order to avoid these kinds of problems, it is wise to conduct a trademark search before settling on a name.
7. Protect Your Domain's Future Viability
Websites and domain names should be viewed as long-term assets. That's why using the current year or a trendy phrase for your domain name is not a good idea.
Imagine the future of your company or brand in the next five or ten years. If you start out offering only fundamental SEO support, you may find that demand forces you to expand your services in the future. Instead of "SEO services," perhaps "marketing" or "digital marketing" would be more accurate terms to use.
8. Consider Using a Domain Name Generator
Domain name generators can help you come up with ideas if you're not creative. You can use these tools to generate a list of potential domain names for your business or website by entering a few keywords or phrases and then checking their availability.
How to Get a Domain Name -Steps to Follow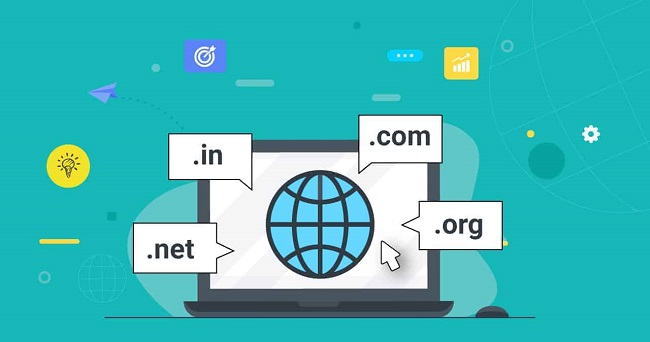 If you're interested in creating a website, one of the first steps you'll need to take is to get a domain name. A domain name is essentially the address people use to find your website online. It's a unique identifier that can help establish your brand and make it easier for people to find you online. But how do you get a domain name?
To get a domain name, follow these steps:
Step- 1: Choose a Domain Name
Your domain name should be unique, easy to remember, and relevant to your brand or business. It should also be short, so people can easily type it and remember it. You can use domain name generators to help you come up with ideas, but ultimately, you want a distinct name that is not easily confused with other domains.
Step- 2: Check the Availability
Once you have a domain name in mind, you need to check if it's available for registration. Domain registrars are companies that manage the registration and ownership of domain names. They typically provide a search tool on their website that allows you to check the availability of a domain name. If the name you want is already taken, the registrar will suggest available alternatives or variations.
Step- 3: Register the Domain
If the domain name is available, you can proceed to register it. The registrar will ask for your contact information, including your name, address, phone number, and email address. They will also ask you to select the length of time you want to register the domain for, which can range from one to ten years. Finally, you'll need to pay the registration fee, which varies depending on the domain extension and the registrar. Once you complete the registration process, you own the domain name for the duration of the registration period.
Step- 4: Configure Your Domain Settings
After registering your domain, you'll need to configure the domain settings to point to your website or web hosting provider. This typically involves setting up DNS (Domain Name System) records, which allow web traffic to be directed to the appropriate server. You may also need to add the domain to your website's hosting account, which requires additional configuration steps. Depending on the registrar and hosting provider, you can use a website builder or content management system to simplify this process.
Step- 5: Maintain Your Domain
Once you've registered your domain name, it's important to keep it up to date and renew it before it expires to ensure that you continue to own it. Most registrars offer automatic renewal options to simplify this process. Still, you should also keep your contact information and payment details up to date in case there are any issues with the renewal process. Additionally, you may need to update your DNS settings or transfer your domain to a new registrar if you change hosting providers or want to sell the domain to someone else.
How Much Does a Domain Name Cost?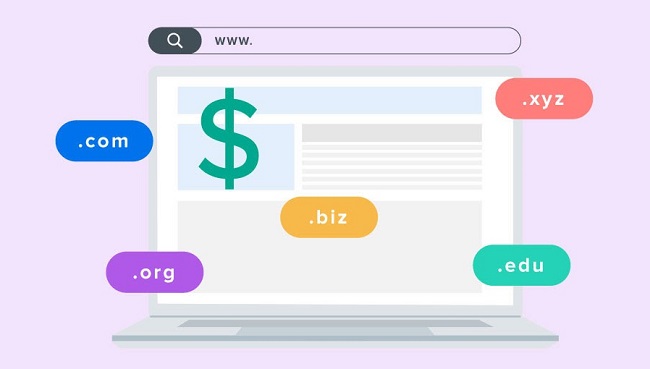 The cost of a domain name can vary depending on several factors, such as the top-level domain (TLD) you choose, the domain registrar you use, and the length of the registration period. Generally, the cost of a domain name ranges from a few dollars to hundreds of dollars per year.
Some of the most common TLDs, such as .com, .net, .org, and .info, typically cost around $10-$20 per year. However, some TLDs, such as .io or .ai, can be more expensive, with prices ranging from $30-$70 per year.
In addition to the cost of the domain name itself, some registrars may charge additional fees for services such as domain privacy, DNS management, or email hosting. It's important to carefully read the registrar's pricing and service information to understand the cost of purchasing and maintaining your domain name.
It's worth noting that the cost of a domain name can also vary depending on availability and demand. If a particular domain name is in high demand, it may be sold at a premium price. Conversely, if a domain name has been on the market for a while without any buyers, the seller may be willing to lower the price.
How Long Does It Take to Use a Domain Name
After registering and paying for a domain name, you might have to wait several hours or even days before you can actually start using it. If you want your website's Domain Name System information to be visible online, you need to ensure that the domain propagates to the appropriate servers. That happens in the background without any intervention from you.
Although some registrars may claim that the name will be live within minutes, it may take up to seven days. However, in most cases, the domain name will be live and accessible within 48 hours.
Keep in mind that you can switch domain registrars if you're not happy with the service you're currently using. If you are unhappy with your current domain hosting service, find a better price when your current registration expires. If the transfer is not provided for free, you should look elsewhere for a domain hosting service.
For that matter, you should never have to pay more to change your name than you would for a brand new one. Verify the prerequisites for the transfer. Can you tell me whether or not the new service takes care of everything needed? Or do you need to update the information on your current registrar's site manually? Finally, before you register your domain name, make sure you read the registrar's transfer policy.
Name transfers are typically not allowed within the first 60 days since registration, though this period can be significantly longer. You should not count on getting a refund from any registrar for unused portions of service.
Frequently Asked Questions
How do I choose a domain name?
When choosing a domain name, it is important to consider the purpose of your website and the audience you are trying to reach. It should be short, easy to remember, and relevant to your business or brand. You may also want to consider including keywords that are relevant to your website's content.
How do I register a domain name?
To register a domain name, you will need to use a domain name registrar. There are many registrars to choose from, including popular options like GoDaddy, Namecheap, and Google Domains. Simply search for the registrar of your choice and follow the instructions for registering a domain name.
How much does it cost to register a domain name?
The cost of registering a domain name can vary depending on the registrar you choose and the TLD you want. Some TLDs, such as .com, are more expensive than others. Typically, you can expect to pay anywhere from $10 to $50 per year for a domain name.
Can I buy an existing domain name?
Yes, it is possible to buy an existing domain name that is already registered. You can search for available domains on domain auction sites, or you can contact the owner directly to see if they are willing to sell the domain name.
How long does it take to register a domain name?
The registration process for a domain name can take anywhere from a few minutes to a few days, depending on the registrar you choose and the TLD you want. In some cases, you may need to provide additional information or verification before the domain name can be registered.
What happens if my domain name expires?
If your domain name expires, it will become available for anyone to register. However, some registrars offer a grace period during which you can renew your domain name before it becomes available to the public. It is important to keep track of your domain name expiration date and renew it before it expires to avoid losing it.
Final Words
Getting a domain name involves choosing a unique and relevant name, checking availability with a domain registrar, choosing a domain extension, and registering the name with the chosen registrar. With the right domain name, you can build a strong online presence for your business or website.
It is important to research available domain names, determine your budget and select a reputable registrar before deciding on the perfect domain name for your website or business. With careful planning and attention to detail, you can own a great domain name that fits your needs perfectly.